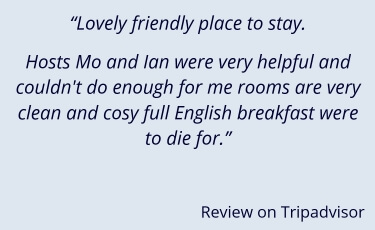 For those that have never visited Bridlington you will not be disappointed from its port with working harbour to miles of golden sands there is something for everyone. For all your accommodation needs look no further than St Hildas Guest House run by husband and wife Mo and Ian.
Mo and Ian go out of their way to make you welcome, with spacious rooms that includes a folder of all the information you need to make your stay memorable to the excellent breakfasts. Best of all everything is in walking distance – a 5 minute walk and your on the sea front with its stunning coastline or the shops you will not be disappointed.
We have just had our third visit to St Hilda's guest house, we are always made very welcome by mo and Ian, lovely, friendly people, the rooms are spotlessly clean and lovely comfortable beds, breakfast is fab, it's really relaxing and comfortable, one of the best guest houses I have ever stayed in.
Stayed here for one night after a concert at the spa. We was welcomed at the front door by Ian and was immediately offered a tea/coffee, which is a nice touch after a long drive.
The guest house is very clean and is very homely, you're made to feel very welcome by Ian and Mo.
Our room was more then adequate for our needs with a comfortable bed, flat screen TV and tea making facilities.
We had a choice for breakfast of full English plus cereals if you wanted. I opted for a tasty full English with endless tea and orange juice. My wife had a vegetarian breakfast which she also enjoyed.
We will return here again if we ever visit Bridlington
From before we arrived little touches such as message and text message were great.
The moment we arrived we were made to feel welcome and hospitality perfect throughout our stay.
The room was beautiful clean and enough for what we needed and Breakfast was great.
The toilet was next to the room and shared shower down the hallway which for a couple of nights did not bother us.
We will defiantly stay again when in the area
It's 5 mins away from railway station and walking distance to beach town etc.
What a lovely bed and breakfast nothing is too much trouble for Mo and Ian, the breakfast absolutely lovely and plenty on your plate. I would recommend this to all my friends and family. Whilst I was staying there another couple became engaged. And there is also a honeymoon couple booked in next week. This was my first time staying in Bridlington and at this bed and breakfast and I will be returning again and again, I only had to walk round the corner to the sea front and the town, if I could give the couple 50/50 I would do well worth coming. I came on the train and that was only a 3 minute walk from the station. The rooms are lovely and the bed is very comfortable a very clean place.
Lovely friendly place to stay. Hosts Mo and Ian were very helpful and couldn't do enough for me rooms are very clean and cosy full English breakfast were to die for. Thank you and I'm looking forward to my next visit.